Rev. Dr. Michael W. Armstrong
The Reverend Dr. Michael W. Armstrong is a native Washingtonian.  Rev. Armstrong received a Bachelor of Arts degree in Sociology from Hampton University, a Master of Divinity degree from Wesley Theological Seminary and a Doctor of Ministry degree in Leadership, Administration and Authority from United Theological Seminary in Dayton, Ohio.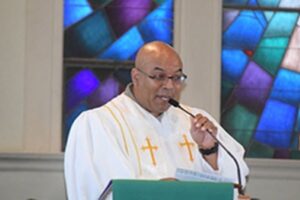 Rev. Armstrong was nurtured by and served the ministry of the Mount Sinai Baptist Church of Washington, DC, where he was licensed in 1984 and ordained in 1991.  During his seminary training, he was a pulpit assistant of the Greater First Baptist Church of Washington, DC. Later, he became the youth minister of the First Baptist Church (Randolph Street) of Washington, DC; and after seminary, he served as the Assistant to the Pastor. He also served as a Site Coordinator for the Church Association for Community Services, an ecumenical association of 113 churches that provided vital social services.
Rev. Armstrong served for eight years as the Director of Admissions of Wesley Theological Seminary, in Washington, DC, and currently serves as an adjunct faculty. In July 1998, while there, Michael was appointed to his first UMC pastoral assignment at the Carter's United Methodist Church in Friendship, Maryland.
For eleven years, he served as Lead Pastor of the McKendree-Simms-Brookland UMC. For the past three years, Michael has been the United Methodist Campus Minister of the Wesley Foundation at Howard University.
Rev. Armstrong also served as co-host  of "Face to Faith" a talk show on Howard University's HUR Voices ~ 141 SiriusXM radio that aired on Sundays at Noon, Mondays at 2:00 PM and repeated on Wednesdays at 9:00 AM.
Michael is married to the former Judy Yates and is the father of two young adult children, Chelsea and Michael, Jr. They reside in Adelphi, Maryland.
But most of all, Rev. Armstrong is a child of God who has been called, anointed and appointed to: "preach good news to the poor…to proclaim release to the captives and recovering of sight to the blind, and to set at liberty those who are oppressed…" Luke 4:18