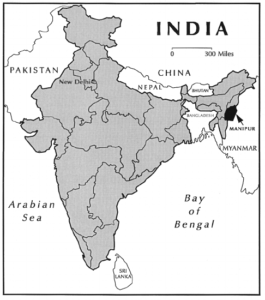 Courageous Church  Reflection:  Pray for the Christians in Manipur, India. (Source: Adapted from https://www.opendoorsuk.org/news/latest-news/manipur-violence/.
Violence flared up last Wednesday, 3 May, following a peaceful protest by the largely Christian minority tribes in Manipur, India. At least 17 Christians have been killed, and hundreds of churches and other Christian buildings destroyed, in ethno-religious violence between ethnic groups in Manipur State in north-east India. More than 15,000 people, including many Christians, have been forced to flee their homes and are living in rescue camps.
"The fundamental reason for the escalation of violence was that the tribals, who are predominantly Christian, are being evicted [by the local government] from the forest land where they've resided for hundreds of years."  The Government is preparing to grant the Meitei (Hindu) majority a certain status that would make it harder for the Christian community to get jobs and other benefits. Thousands of Christians are among those who are currently finding safety in camps protected by the army.
How you can pray
There are children, women, older people whose lives are uncertain, and they're deprived of basic facilities and amenities and deeply traumatized.  Please pray:
For the tribal Christian refugees who are taking shelter in the refugee camp as their houses are burned and destroyed
For the Christian families whose members have been killed in the violence
For Christians to be strengthened with God's peace as they demonstrate God's love through the suffering with other non-Christians also affected in these violent clashes by the Hindu majority.